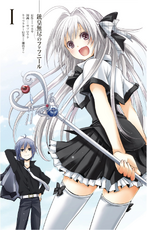 Juuou Mujin no Fafnir, also known as Unlimited Fafnir, is the title of the manga adaptation of the light novel series of the same name. The manga is illustrated by Saburota and was serialized in Kodansha's seinen manga magazine good! Afternoon from March 7, 2014 to December 7, 2015. As of March 7, 2016, the series is complete with four tankōbon volumes.
Synopsis
Edit
Second Lieutenant Yuu Mononobe has been sent to Midgard to attend the all-girls school where his sister Mitsuki is the student council president. The school is specifically for people with D powers, who are needed to fight Dragons, and both Mitsuki and Yuu fit the criteria. On his arrival, he meets and befriends another classmate named Iris Freyja, who is having difficulties with her D-related schoolwork. They will do their best to succeed in this dangerous world.
Manga Volumes
Edit
Refrences
Edit
Ad blocker interference detected!
Wikia is a free-to-use site that makes money from advertising. We have a modified experience for viewers using ad blockers

Wikia is not accessible if you've made further modifications. Remove the custom ad blocker rule(s) and the page will load as expected.